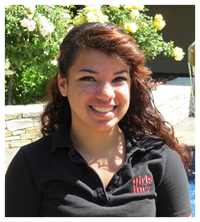 "Girls Inc. has given me a safe place, somewhere where I was listened to and felt like I belonged."
Her Story: Jamie joined Girls Inc. as a way to try something new and find a supportive space lacking in her life, and her involvement quickly became much more than one leadership/mentoring program. Jamie explored topics such as career options and how to prepare for college, personal health, self-defense, public speaking, and how to prepare for a job interview. As a Youth Leader, she worked with younger girls by facilitating programs around substance abuse prevention and tackling peer pressure.
Her Future: Jamie is a student at California State University Fresno where she is studying Criminology.