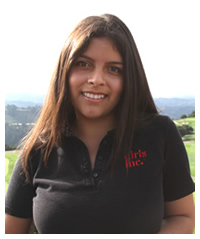 "I joined Girls Inc. hoping to experience a new environment and increase my self-esteem but I gained much more than that."
Estefania Cabrera started her involvement with Girls Inc. in the summer of 2007. Through Girls Inc. she became a more confident and strong young women. She was able to practice her public speaking skills and gained the courage to stand up and speak up. Through the program Estefania gained the knowledge on various topics such as culture, women's health and fitness, public speaking, interview skills, how a bill becomes a law, and writing a resume.
Estefania will be attending UC San Diego this fall 2011.